3 Wheel Mobility Scooter Electric Powered Mobile Folding Wheelchair For Adult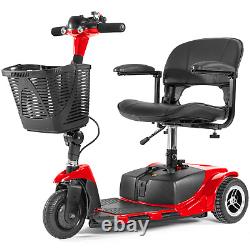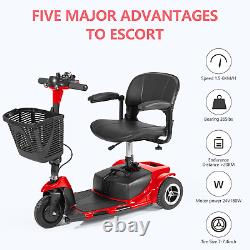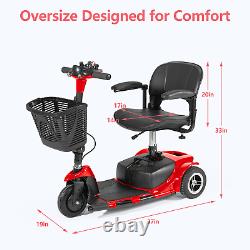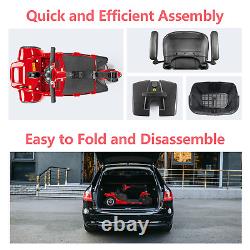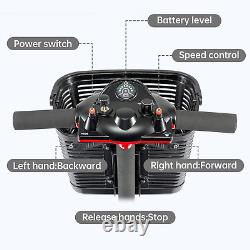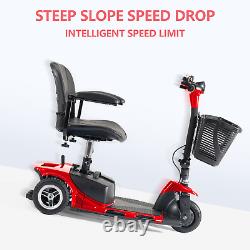 4 Wheel Mobility Scooter, Upgrade Electric Power Mobile Wheelchair for Seniors Adult with Lights Collapsible and Compact Duty Travel Scooter w/Basket and Extended Battery. Drive over indoor and outdoor surfaces in comfort. Designed to support up to 265 lbs and travel up to 12.4 miles on a single charge. Tight turning radius and great power. 3.70 mph max speed.
The Innuovo 3 wheel mobility scooter offers riders exceptional mobile portability. Comfortably padded & supportive seat. Easily adjustable chair height for better riding comfort. Swivel seat chair for easy accessibility. Ample storage space, a sturdy large basket is included with every Innuovo 3 compact powered electric wheelchair scooter.
Easily disassemble the Innuovo 3 powered mobility scooters into five lightweight, compact, foldable and transportable pieces. Features a folding tiller, and removable seat. Portable electric scooter chair that fits into the trunk of standard size vehicles. Simple and easily usable power control panel. Easily steer, change direction, check battery range, reverse, turn on the headlights, use the horn, and set a maximum speed. With the Innuovo 3 wheel electric scooter for adults controls are all within arms reach. Located on the tiller console, the control panel allows you to set the maximum speed with the variable speed dial, change from a forward to a reverse direction, turn on the headlight as well as produce a warning tone as needed. The display also includes a color-coded battery life indicator for checking the status of the battery at a glance. How long will the battery last per charge? Our long-lasting battery holds up to 12.4 miles per charge. Can I charge the battery without removing it from the scooter? You can charge the battery both on-board and off-board (by using our free off-board charger). How much is the heaviest piece when the Innuovo scooter is disassembled? The heaviest pieces when disassembled is 29 pounds. If you can lift your grandchild, you can transport this scooter. How much does the Innuovo 3-Wheel Scooter weigh? The entire scooter weighs 77 pounds. The heaviest piece when disassembled is 29 pounds. Is the Innuovo scooter easy to put together or disassemble? It easily breaks up into 5 different parts. Its assembly requires no special tools or knowledge and can be done in just a few minutes. Our team, constantly standing by, will gladly assist you, too. Will the Innuovo scooter fit in my trunk or through my doorway? Yes, it fits in most trunks and through most doorways. Please refer to the dimensions below the FAQ for specifics. What is the Innuovo scooter's weight capacity?
Its sturdy aluminum frame supports up to 265 pounds. Does the Innuovo scooter come with headlights or a horn? Bright LED headlights and a safety horn are included. Is the basket and battery included? Yes, the basket, battery, and a convenient on-board charger are included.
We engineered the tires for durability and safety. All four tires are flat-free, non-marking, and are 8 wide. How fast can the Innuovo scooter travel? Its maximum speed is 3.7 mph.
Its swivel feature allows you to easily step off the scooter without aggravating back pain. Its also comfortably padded, is 17" wide by 15" in depth. Its cushioned armrests adjust and flip upward--for even greater convenience when exiting or boarding. The seat is also height adjustable. Is the Innuovo scooter TSA-approved?
Yes, the scooter is TSA-approved --which should hasten your airline travel. Top Speed: 3.7 mph. Maximum Drive Range Per Charge: 12.4 miles. Brakes: Electronic, regenerative, and electromechanical. Seat Dimensions: 17" L x 15" D.
Product Dimensions: 38" L x 33" H x 19.5 W.