4 Wheel Electric Wheelchair Seniors Mobility Scooter 20Ah Range of 15.5 miles US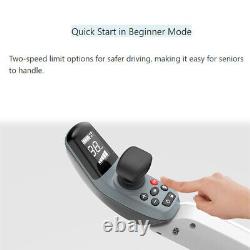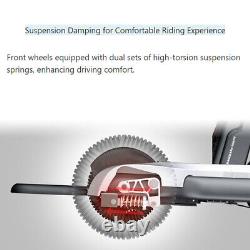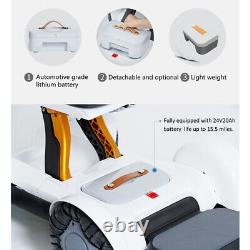 360° Omni-directional Joystick: Five-speed gear shift to meet different environments and drivers of different ages. The large joystick enhances maneuverability, providing a more comfortable and safer driving experience. Ergonomic Quick-rebound Seat Cushion: The seat cushion is designed with a high outer and low inner structure, effectively supporting and optimizing comfort by accommodating the buttocks better. Detachable High-efficiency Lithium Battery: Equipped with a smart Battery Management System (BMS) to extend battery life.
The detachable design facilitates charging, replacement, and portability. 6-zone Fitting Design: Tailored to the structure of the human back, the comprehensive wrap-around support evenly distributes weight, relieving pressure and alleviating lower back fatigue.
Flexible and Lift-up Armrest: The armrest can be lifted up, allowing for safer side entry and exit, convenient for users to eat or get on and off the wheelchair. Independent Shock Absorption Suspension System: Dual sets of high-torsion suspension springs on the front wheels cushion impacts on uneven surfaces and steps, providing users with a smooth and comfortable driving experience. Mobile Interconnected Remote Control: More settings and operation choices, continuously upgrading the system.
One-key SOS Assistance and Location: Notifies emergency contacts through various methods, providing peace of mind for family members. Seagull-wing Backlight Escort: Seagull-wing backlight and double flashing wide lights ensure safe driving at night. New Upgraded Explosion-proof Vacuum Rear Tire: Unique BBR marking, deep sawtooth anti-slip design, shock absorption, and wear resistance.
20A Battery: Charges in 5 hours with a maximum driving range of 15.5 miles. Due to capacity exceeding aviation requirements, not suitable for air travel.
Full-direction Obstacle-crossing Wheel: Maximum climbing capacity: 10 degrees; Maximum obstacle-crossing height: 6cm; Minimum turning radius: 73cm.