4 Wheels Folding Mobility Scooter Power Wheel Chair Electric Device Adult Travel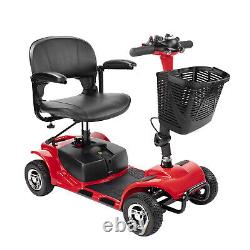 2022 4 Wheels Power Mobility Scooter Heavy Duty Travel w/light Upgrade Red/Blue. The Innuovo W3431 transportable scooter combines easy and convenient mobility with superior value.
The Innuovo W3431 scooter is compact, lightweight and easy to disassemble-perfect for taking wherever you want to go, either around the neighborhood or far from home. It can be disassembled quickly and easily into four easy-to-handle pieces for loading into a car, truck, or van and taking shopping or on vacation.
Designed for smooth, man-made surfaces including tile, carpet, ashphalt and unbroken cement. The Innuovo W3431 scooter also offers great features like a quick connect battery pack and a delta-style tiller to make operating the scooter easier for those with limited strength or dexterity. This model comes with color-through panels to hide scuffs and scratches and black wheel rims. Dual model can switch quickly. 4 Wheel configuration provides additional stability. Quick and easy disassembly into 4 easy-to-transport pieces. Height-adjustable swivel seat with fold-down backrest. Comfortable, Armrests are padded and adjustable. Comes with large metal carry basket. Solid, non-marking, flat-free tires for worry-free travel. Anti-tip wheels for greater safety. Delta tiller is easy to adjust; Ergonomic throttle control with easy freewheel operation. Seat back folds completely flat, which comes in handy when transporting or storing the scooter. Comes with easy to remove, quick connect battery pack that can be charged separately from the scooter.
39.37'' X 19.68'' X 14.96'. Top Speed 3.73 mph Estimated Range 15 miles Max Climbing Angle 6° Turning Radius 53.75" Ground Clearance 2.5" Dimensions 105cm (L) x 52cm (W) x 75cm (H) Motor 24V x 270W x 4700rpm.
Batteries 12V/12AH x 2 Battery weight 9.5kg Color Red. Charger 3A Brakes Electromagnetic Freewheel Mode Yes Front Wheels 8" x 2" Rear Wheels 8" x 2" Anti-Tip Wheels Yes Base Weight 70 lbs.
1x Blue 4 wheels Electric Wheelchair. With two LED headlights in the front of the mobility scooter, it ensures the safety of night driving. The driving range is up to 13 miles per charge. It is easy to operate the mobility scooter even you've never used one before. It is simple and intuitive for elders.
The control dash has a speed knob that you can use to control the speed. Forward speed is 3.8 mph, and the max reverse speed is 2.2 mph. The dual rear anti-tipperes ensure the safety when you are driving in the slope. The climbing gradeability is 9 degree. The max gradebility is 12 degree.
The wheel hub is made from high quality aluminium alloy. Unlike some cheap plastic, it is durable and reliability. The four non-scuffing tires also make this model an excellent indoor mobility scooter to consider. Unlike those scooters can only be disassembled into 4 pcs, our mobility scooter for senior can be disassembled into 5 pcs, which allows you can put the mobility scooter into small cars by pieces.
It is more compact when you need to store or tranport it. Two Mode of Mobility Scooter. The automatic braking system will affect immediately when you loose the controller bar. The 13 basket of mobility scooter can satisfy the daily use of adults.
With its handle, you can simply take the baskets into house after shopping by the scooters. With its comfortable pads, the 360 degree swivel cushion seat allows you to more easily step off the scooters without aggravating back pain. The height-adjustable seat can easily be adjusted by pushing the height lever. 2023 4 Wheel Folding Power Mobility Scooter.
ELECTRIC FOLDING MOBOLITY SCOOTER :The 4 Wheels Mobility Scooter is compact, lightweight and easy to folding, easy and convenient mobility. Designed to safely support up to 265 pounds, the mobility scooter and its vacuum tires were engineered for durability and safety. Its easy grip tires are flat-free. Its maximum speed is 5 mph, and it has a driving distance up to 10 miles per charge.
REMOTE CINTROL FOLDING TYPE: Use the remote control can be folded at the touch of a button, folding size 28 20 17inch, saving the placement area, easily placed in the car trunk for short trips. 16.14 inches wide seat and back to provide gentle cushioning and support.
REASONABLE GROUND CLEARANCE: The larger the ground clearance, the stronger the vehicle's ability to pass through obstacles or uneven ground, but the high center of gravity reduces the stability; the smaller the ground clearance, the weaker the passing ability, but the lower center of gravity can increase the stability. When the engineering designs a reasonable ground clearance of 7.5inch, you will have a small folding type 4 Wheel Mobility Scooter!
SIMPLE OPERATION PANEL: The control panel allows you to use the shift dial to set the maximum speed, change from forward to reverse direction, turn on the headlights, and sound a warning tone if desired. The display also includes a color-coded battery life indicator to quickly check battery status for safe travel. The Electric Power Scooter designed with anti-rolling wheel above the rear wheel to prevent rollover. Attention: Attention: Please read the instructions carefully before using this Electric Folding Scooter to avoid accidents caused by operational errors.