Electric Wheelchair for Adults-Foldable Scooter Wheelchair-Travel Mobility Aid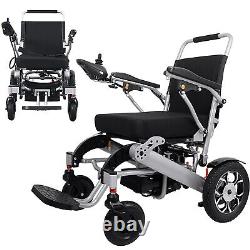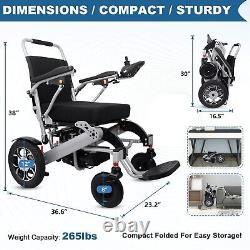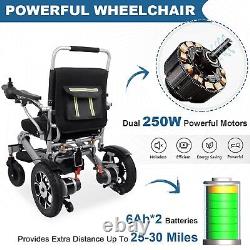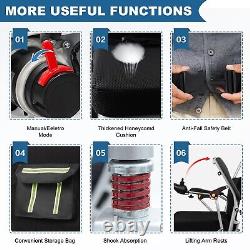 Electric Wheelchair for Adults-Foldable Scooter Wheelchair-Travel Mobility Aid. Electric Wheelchair inding a portable motorized wheelchair can be difficult. With large motors and frames, these chairs don't always lend themselves to convenient transport. That's why we've put together a selection of what we believe to be the most capable motorized wheelchairs available. Our selection of portable motorized wheelchairs made of lightweight materials provides convenient mobility.
We only offer new products; you'll never receive a used electric wheelchair from us. Most of these chairs are lightweight or disassemble, and some even feature foldable frames.
If you find that lugging your unit from point A to B is a chore, it may be time to think about replacing it with a more portable motorized wheelchair. Tripaide Electric Wheelchair The all New Tripaide Electric Wheelchair is one of the world's lightest mobility chairs weighing only 58 lbs. The Tripaide Electric Wheelchair folds into ONE piece (there is no dis-assembly) to easily fit in the trunk of most vehicles allowing you the freedom to travel, shop or the park and to do the things you enjoy.
Made from durable, lightweight aircraft quality aluminum alloy making it extremely durable and able to hold up to 265 lbs. The simple folding design allows for convenient storage and easy transport. Features Large Power Wheelchair Stylish and exceptionally durable, the Tripaide power wheelchair smoothly navigates most surfaces with powerful dual motors, a universal joystick controller and large, flat-free tires. The wheelchair's universal controller can be mounted on either the left or right armrest, both of which are height adjustable for greater comfort. The power wheelchair also has a travel distance of up to 20-25 miles and smoothly handles moderate inclines.
Supporting up to 265 pounds, the motorized wheelchair is constructed with a durable, yet lightweight aluminum and is designed to easily fold for storage and travel. Safe and Smooth Transportation: Easy to operate, the foldable power wheelchair is equipped with dual motors, flat-free tires and shock absorbers to safely and smoothly maneuver over any terrain, including grass, pavement, gravel and more. Perfect for Traveling: Ideal for traveling, the motorized wheelchair is constructed with a lightweight, yet durable aluminum alloy frame that safely supports up to 265 pounds. Rechargeable, the powerful lithium battery allows the wheelchair to navigate mild inclines and travel up to 20-25 miles per charge.
TSA-approved, it can fold within seconds and easily fitting in standard trunk sizes. Easy to Operate: Repositionable for the left or right side, the electric power wheelchair operates with a 360-degree, joystick and speed controller. With a maximum speed of 4 mph, the power wheelchair controller allows you to easily monitor and adjust the speed of the wheelchair. The controller also includes a horn button, a battery charge indicator and a USB port for charging electronic devices while on the go. Comfort Seating: Padded with dense foam, the motorized wheelchair seat is comfortably wide, measuring 17.7" wide and 17.7" deep. The cushioned seat is easy to clean. The armrests are also height adjustable for personalized comfort. For European buyers, we usually use UPS and DPD.. Hope we can deal with soon and let us witness this moment. No fraud, just fair trade.
And you will get more. We dont work in weekends or holiday, if u need some help or have problems, we will reply once we back to office, hope can get ur understanding.
The Tripaide brand is a trusted name for millions of people around the world, designed for you and relied on by physical therapists for independent daily living and mobility. Tripaide is a leading global provider of daily living aids for patients in nursing homes and assisted living facilities and for consumers at home.
Tripaide offers a wide range of simple and practical aids for everyday activities like eating, dressing, bathing, and walking. Mobility is a special focus in the Tripaide line. The Tripaide brand will help you adapt to your environment and get where you need to go with Electric Wheelchair, walkers, wheelchairs, and adaptive mobility accessories. Whatever your ability or lifestyle, you can rediscover your independence using our complete range of products. If you wish to return or cancel your order, please let us know within 30 days of placing your order.
We reserve the right to request images of your product before authorising its return.