NEW 2pc 12V 35Ah U1 SLA Jazzy Select GT Power Chair Scooter Battery FAST SHIP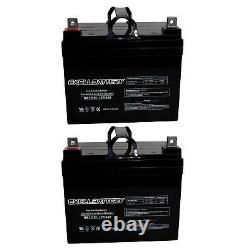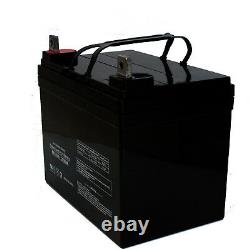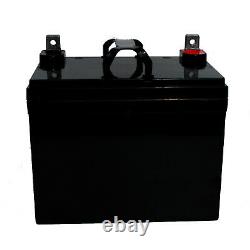 Flashlight / Batteries / Bulbs. FRS / 2-Way Radio Batteries.
Remote / Car Alarm / Lantern. Exell Battery 12V 35Ah Sealed Lead Acid Battery Rechargeable AGM for solar applications, UPS Backup, medical mobility and replaces UB12350, D5722, PS-682. Batteries in a Flash offers a variety of high quality sealed lead acid (SLA) batteries. These unique batteries are used in a variety of applications such as computer systems, exit signs, emergency lighting, scooters, industrial/medical equipment, and wheelchairs. These batteries are also ideal for solar applications, UPS Backup, and medical mobility! This specific battery is classified as an AGM battery or Absorbent Glass Mat, using technology that assures superior battery performance. AGM batteries are valve-regulates, spill proof, and are safely used in any position. Common uses for this battery: Consumer Electronics, Electric Vehicles, Golf Carts, Hunting, Lawn and Garden Tools, Medical Mobility, Motorcycles, Power sports, Portable Tools, Toys and Hobby, Access Control Devices, Emergency Lighting, Security. Type (Chemistry): AGM Sealed Lead Acid.
Length: 7.70(195.5mm). Model Number : WB 12350 IT (Group U1). Excellent performance and ability to endure high current output and deep cycling. Greater resistance to vibrations, shock, chemicals and heat. Higher cranking amps and lower self discharge.
Electrolyte is suspended in fiberglass mat separators, which act as absorbent sponges. All Models Eagle Pitcher: CF12V30, CFM12V33 Edwards: 1799115PT, 1799115PT, 1799115ST, EST2, 1799115ST, EST2 Elan: EL2, EL2, ESC2095, GB6V, NP66A, NP86A, R2112, SB6V, ESC2095, GB6V, NP66A, NP86A, R2112, SB6V Electric Mobility: BUTLER, CYCLE CHAIR, RASCAL MWD POWER CHAIR, RASCAL SCOOTER Electric Wheelchair: All Models Elgar: SPR401 ELS: 12BLC, 12BLC, BLC, BLC12, BLH, EDS680, EDS680W, BLC, BLC12, BLH, EDS680, EDS680W Elsar: 128, 128, 152, 422, 23034, 23040, 152, 23034, 23040, 422 Emergilite: 12CSM36, 12DSM36, 680, 6M9, CSE18, CSE3, LSE2, LSE3, LSE4, M6, M6MLG11 Everest & Jennings: 14 BELT DRIVE CHAIRS, 3H, 3N, 3P, 3V, 3W, CARRETTE, HOT WHEELS, KID POWER, MAGNUM, MARATHON, MARATHON LE, METRO POWER, MOBIE, MX, NAVIGATOR, QUEST, SABRE ES, SABRE ES-GT, SABRE LTD, SPRINT, SPRINT II, SPRINT PLUS, TEMPEST, XCALIBUR Fortress: 1000FS, 755FS, COMMUTER Genus: All Models Global Research: GALAXY, STARLIGHT 1, STARLIGHT 2, STARLIGHT 3 Golden Technology: GSE 300, GSE 400, GSE 600, GSE 700, HAWK, REGENT, Scoota, Scoota Bug, Sterling Gould Batteries: PB686 GS / Portalac: PE6V8 High Lites: 12HD17 Hoveround: ACTIVA DM, AFFILITY, HVR 100, LX, MPV 2, MPV 3, MPV 4, TEKNIQUE FWD, TEKNIQUE GT, TEKNIQUE RWD Hubbell: 702836 Independence Chair: All Models Interstate Batteries: BSL0945, BSL0945, BSL0946, BSL0946 Invacare: ARROW RANGER II, ARROW RANGER X, BOOSTER, CAT, CAT BASIC, FLYER, JAGUAR, P7E, POWER 9000, POWER TIGER, RABBIT, STORM RX, STORM TORQUE, TRI ROLLS, TRI SCOOT I, TRI SCOOT II Kidde Inc. 295001 Leisure Lift: All Models but Pediatric Leoch: DJW6-8.5 Lifestyles (fortress Wheelchairs): 1000FS, 755FS, Commuter Light Alarms: 1PG2X5E, 1PGX5, 1PGX5E, 2DSGC3V, 2P12G1, 2PG1, 2PG12G1, 2PG2, 2PG2X5E, 2PGX5, 2PGX5E, 4RPG2, 4RPG2H, 5E15BQ, 5E15CB, 5E15CK, 8600016, 8600018, CE15AL, CE15AV, DM6, DS6, E1, LL12, OPG2X5E, OPGX5, OPGX5E, OPGX5E1, P1, P12LP1, PG1, PG2, PGX, RPG3, RPG3H Lithonia: B0609, ELB1228, ELM10, ELR3, ELU23, ELU8, EMB212801 Mallard Teal: 200A74 Medical Resource Co.
Since 2004, Batteries In A Flash has served hundreds of thousands of customer worldwide! Batteries In A Flash is a retailer and wholesaler of quality batteries and chargers. We carry a full line of batteries and serve all consumer electronic, commercial, industrial, military and government needs. We make every effort to get your order to you. Weekend orders from Friday after 1:00 P.
Will be processed on Monday. We will make every effort to correct your order in a reasonable amount of processing time. Should you have any questions regarding our policies please contact our Customer Service Specialists.
Our customer service is here to help you. We can assist to help you finding the correct product or cross referencing your product. If you are unsure or just want to confirm your selection, give us a call. 12pc 12V 100Ah Sealed Lead Acid AGM Battery Group 27 For UPS Backup Systems. Fullriver Group U1 12V 35Ah AGM Sealed Lead Acid Battery DC35-12. 8pc 12V 100Ah SLA AGM Battery Group 27 For Access Control Devices, Security. Centennial Battery Group 8D 12V 260Ah AGM Sealed Lead Acid Battery DC260-12.
This listing is currently undergoing maintenance, we apologise for any inconvenience caused. The item "NEW 2pc 12V 35Ah U1 SLA Jazzy Select GT Power Chair Scooter Battery FAST SHIP" is in sale since Friday, January 11, 2019. This item is in the category "Consumer Electronics\Multipurpose Batteries & Power\Rechargeable Batteries". The seller is "batteriesinaflash" and is located in North Las Vegas, Nevada. This item can be shipped to United States.
Type: Battery
Battery Size: Group U1
Country/Region of Manufacture: China
Amperage: 35Ah
Chemistry: AGM
Country of Manufacture: China
Material: Other
Output Voltage: 12
Terminal Type: I2 Internal Threaded Post
MPN: EBC52110QTY
Chemical Composition: NiCd
Voltage: 1.2 V
Brand: Exell Battery
Amp Hours: 2.2 Ah
Application: High Drain Devices