PENGJIE Electric Mobility Scooter for Adults Wheelchair Device for Elder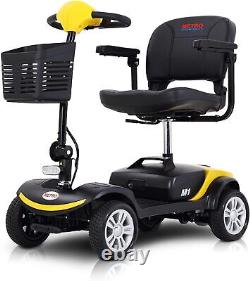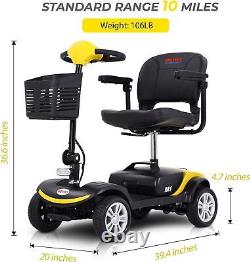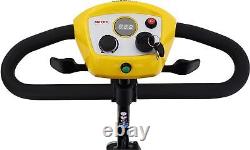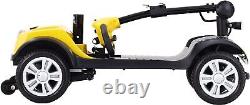 Safe Maneuverability: Use 4-wheeled scooter to maneuver easily on smooth indoor and outdoor surfaces in a comfortable environment. This electric mobility scooter is designed to safely support 300 lbs, is equipped with 9-inch flat free tires, has a top speed of 5mph, and can travel up to Max 10 miles per charge. Ground Clearance: 4.7 inches/ Battery Capacity: 12 Ah/ Turning Radius: 43.3. Comfortable Seating: this travel scooter features an attractive fully-padded faux-leather seat that offers an adjustable height to suit users of nearly all heights. Additionally, the scooter seat is surrounded by two padded armrests that adjust and flip upward for greater convenience when exiting or boarding.
Easy Control Panel: The control panel located on the console of the tiller allows you to use the variable speed dial to set the maximum speed, change from the forward direction to the reverse direction, emit a warning tone as needed. The display also includes a color-coded battery life indicator for checking battery status at a glance. Portable Design: Quickly disassemble the mobility scooter into 4 pieces for easy portability, featuring a folding tiller and removable seat each section easily fits in the trunk of standard size vehicles.